APR. 15, 2021 - The Blessing Tour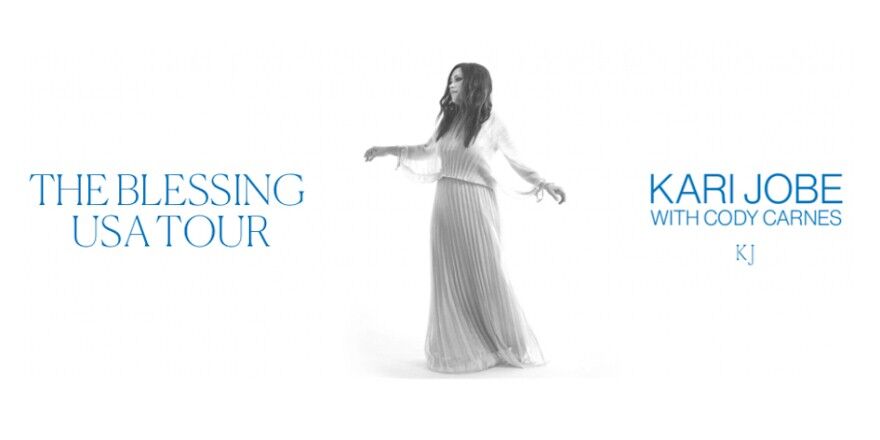 6:30 - 10:00 PM on Thursday, April 15
Kari Jobe, in conjunction with Premier Productions, has announced The Blessing USA Tour. Sponsored by illumiNations and CovidSafeChurch.com, Jobe will hit 22 cities across the U.S.
Also featuring Cody Carnes, the tour will kick off on April 15 in Pittsburgh, and continue on to markets including Dallas, Orlando, Minneapolis, Atlanta, and Houston. Tickets will go on sale to the public next Friday, Feb. 19.
The tour is implementing "socially distanced and/or reserved COVID-safe seating and capacities" in each venue. Tour members will be tested and everyone entering will be temperature checked in addition to other standards and local requirements.
"This past year has been so difficult for a lot of us," Jobe remarked. "We had no idea that the timing of 'The Blessing' would fall at such an incredibly sensitive time for our globe. I have cried so many times as I've watched different people all over the world declaring this song over their families, their churches and their nations. It has been so sweet. I'm so thankful that His promises are promises of peace and strength."
Written and released the week before the the COVID pandemic hit the globe, Jobe co-wrote the tour's namesake, "The Blessing," with her husband and songwriter Cody Carnes and Elevation Worship's Steven Furtick and Chris Brown. "The Blessing" was the most consumed new CCM song of the year in 2020 and also won for Worship Song of the Year at last year's GMA Dove Awards. It is nominated for Best Contemporary Christian Music Performance/Song at the upcoming Grammy Awards.
The Blessing USA Tour (all dates subject to change):
4/15/21 – Pittsburgh, PA
4/16/21 – Cleveland, OH
4/17/21 – Lexington, KY
4/22/21 – Jacksonville, FL
4/23/21 – Orlando, FL
4/24/21 – Ft. Myers, FL
4/25/21 – Tampa, FL
4/29/21 – Dallas, TX
4/30/21 – Joplin, MO
5/1/21 – St. Louis, MO
5/2/21 – Jackson, MS
5/6/21 – Tulsa, OK
5/7/21 – Oklahoma City, OK
5/8/21 – College Station, TX
5/9/21 – Houston, TX
5/14/21 – Atlanta, GA
5/15/21 – Cullman, AL
5/16/21 – Knoxville, TN
5/20/21 – Minneapolis, MN
5/21/21 – Cedar Rapids, IA
5/22/21 – Omaha, NE
5/23/21 – Wichita, KS
Location:
Amplify Church
9400 Saltsburg Road
Pittsburgh, PA 15239
Google Map
800-965-9324