Watch the Live Stream Event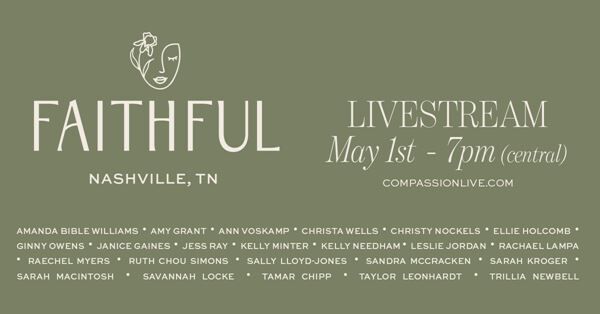 8:00 - 10:00 PM on Saturday, May 1
LIVESTREAM EVENT
May 1, 2021 - 8:00 pm (eastern)
Authors, Artists and Friends telling the stories of God's faithfulness.
Join us on May 1st for an unforgettable evening created and curated by some of the most thought-provoking and influential Christian artists and authors of our time. This unprecedented livestream will feature a collaboration between Faithful's artists and authors telling the stories of God's faithfulness to women throughout Scripture and all the way to present, through stories and song.
FEATURING
Amanda Bible Williams
Amy Grant
Ann VosKamp
Christa Wells
Christy Nockels
Ellie Holcomb
Ginny Owens
Janice Gaines
Jess Ray
Kelly Minter
Kelly Needham
Leslie Jordan
Rachael Lampa
Raechel Myers
Ruth Chou Simons
Sally Lloyd-Jones
Sandra McCracken
Sarah Kroger
Sarah Macintosh
Savannah Locke
Tamar Chipp
Taylor Leonhardt
Trillia Newbell
*If May 1st doesn't work for you, on-demand viewing will be available through May 15th. You must sponsor a child through Compassion International on this specific page to be mailed the book and album, and gain access to the VIP content. Sponsorship on this page will be available through 11:59pm CT on April 29, 2021. You may gain General Admission access to the livestream (without VIP content) by purchasing an event ticket at this link.