Unlikely, Yet Perfect (Matthew 1:5-6) - Your Daily Bible Verse - September 30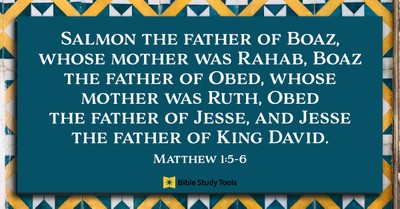 Crosswalk.com

Unlikely, Yet Perfect
By Jennifer Waddle
Salmon the father of Boaz, whose mother was Rahab, Boaz the father of Obed, whose mother was Ruth, Obed the father of Jesse, and Jesse the father of King David. - Matthew 1:5-6
I've never been one to dig deep into my own family's genealogy. It's not because I don't find it interesting. In fact, the few things I do know about my heritage is fascinating to me. But there's one genealogy that captures my attention every time I read it—the genealogy of Jesus. For amidst the ordinary (and not so ordinary) names, there's mention of a woman who probably never dreamed she'd be included in the Messiah's family line. Her name is Rahab.
Rahab is described in the Old Testament book of Joshua as a harlot, or prostitute— depending on the version of the Bible you read. However, her way of life changed drastically the day she decided to hide two Israelite spies. Through divine inspiration, she knew the men had been sent by God to search her hometown of Jericho, and she helped them escape the king's men by hiding them on the roof, underneath stalks of flax (Joshua 2:6).
The remarkable thing about Rahab's actions, was that they were carried out from an unlikely perspective of faith. You see, she had heard of God's miraculous ways—how He had dried up the Red Sea and led the Israelites on dry land. She had heard of the Israelites' victories, as they conquered mighty kings and took over entire provinces. And with that knowledge, a seed of faith was planted in her heart. Remarkably, she believed (and feared) what she'd heard about the God of the Israelites. In her own words, she said, "For the Lord your God, He is God in heaven above and on earth beneath" (Joshua 2:11).
Through her faithful acts of bravery, she and her family were miraculously spared the destruction of the wall of Jericho in which they lived. Afterward, she went on to marry Salmon, who was in the direct lineage of King David. And twenty-eight generations later, Jesus Christ was born to Mary and Joseph in Bethlehem.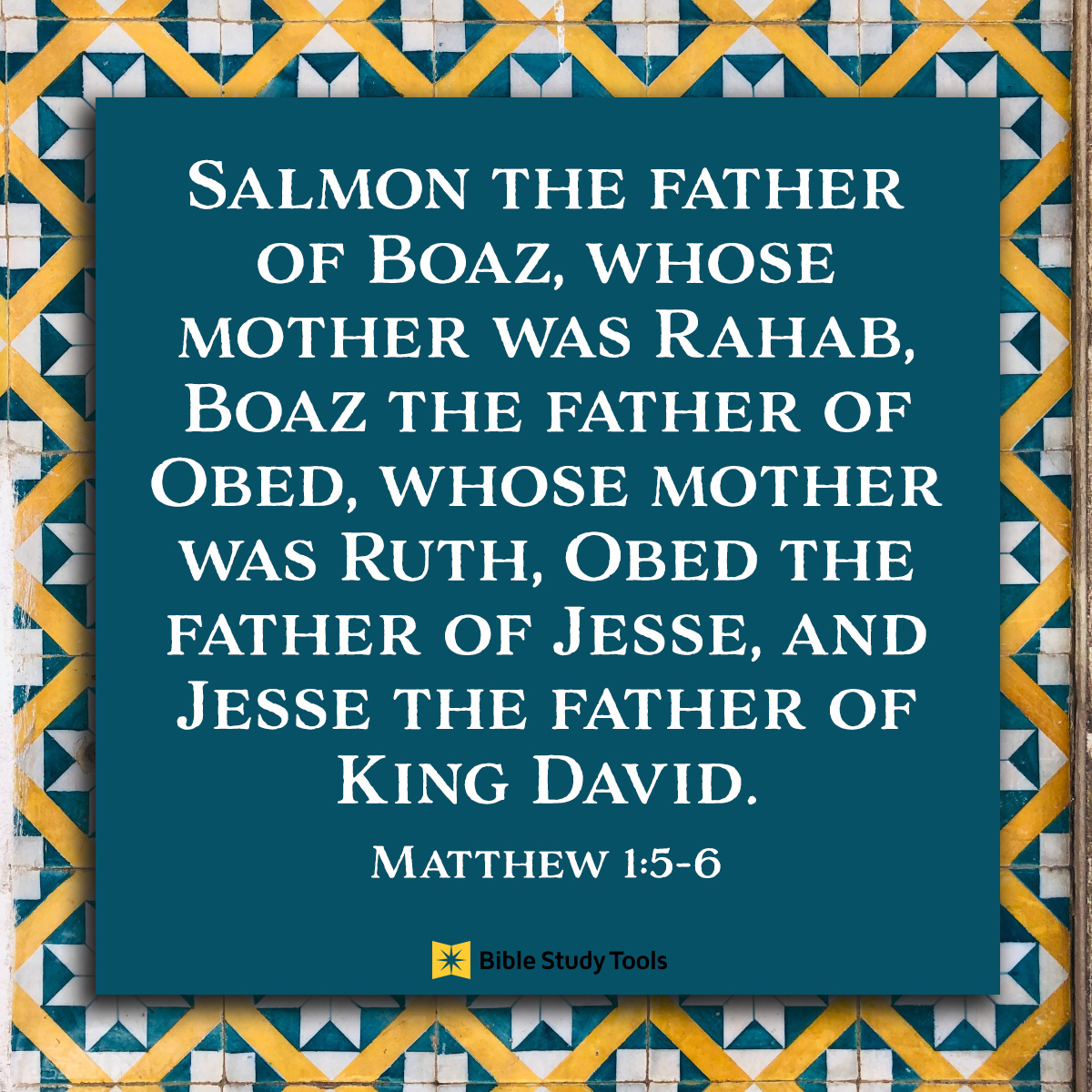 The genealogy of the Savior is the perfect example of how God sometimes chooses the most unlikely people to be instrumental in His purpose. For He looks at the heart and not the outward appearance (1 Samuel 16:7). He chooses the weak to be symbols of His strength. And, He calls unlikely people to carry out His perfect will.
If genealogies and family histories are fascinating to you, consider looking deeper into Jesus' timeline. As you read the ordinary (and not so ordinary) names, you'll find that the Bible is full of surprises that will take you on a journey of remarkable discovery. You'll also see how God can use the most unlikely of people to perform His perfect plan for mankind.
More interesting resources that give insight into Rahab's life:
The Scarlet Cord: Rahab's Bible Story & Our Story
---
Jennifer Waddle considers herself a Kansas girl, married to a Colorado hunk, with a heart to encourage women everywhere. She is the author of several books, including Prayer WORRIER: Turning Every Worry into Powerful Prayer, and is a regular contributor for LifeWay, Crosswalk, Abide, and Christians Care International. Jennifer's online ministry is EncouragementMama.com where you can find her books and sign up for her weekly post, Discouragement Doesn't Win. She resides with her family near the foothills of the Rocky Mountains—her favorite place on earth.
We want to experience God through the Bible… we really do!
But our good intentions fall flat when reading the Bible just doesn't seem to help us experience God in a real way. What should feel alive often feels confusing and boring and irrelevant. But it doesn't have to.
In the How to Study the Bible podcast, pastor and Bible teacher Nicole Unice brings life back to reading the Bible by walking listeners through her Alive Method of Bible study, helping us personally encounter God through his Word by giving us a practical, clear road map for understanding, interpreting and applying Scripture to our lives. Just click below to start listening now!