PowerPoint with Jack Graham
Listen on WORD 101.5 FM
Monday
2:00PM - 2:30PM, 9:30PM - 10:00PM
Tuesday
2:00PM - 2:30PM, 9:30PM - 10:00PM
Wednesday
2:00PM - 2:30PM, 9:30PM - 10:00PM
Thursday
2:00PM - 2:30PM, 9:30PM - 10:00PM
Friday
2:00PM - 2:30PM, 9:30PM - 10:00PM
Latest Broadcast
The Soundtrack of Your Life
1/21/2021
Pastor Jack Graham closes the encouraging series, "Songs of Inspiration," with a look at Psalm 147. The Psalms, at the heart of Scripture, are a hymnbook; hymns of praise to God inspired by the Holy Spirit. In his message today, Pastor Graham teaches why these should be "The Soundtrack of Your . . .
Featured Offer from PowerPoint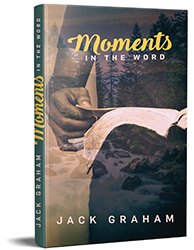 Walk closer with the Lord this year!
You may find yourself facing new challenges this year that you haven't faced before. The good news is you can trust God to give you the strength you need as He works powerfully in your life.  We're excited to help you walk closer with the Lord this year by sending you Dr. Graham's Moments in the Word 180-day devotional.